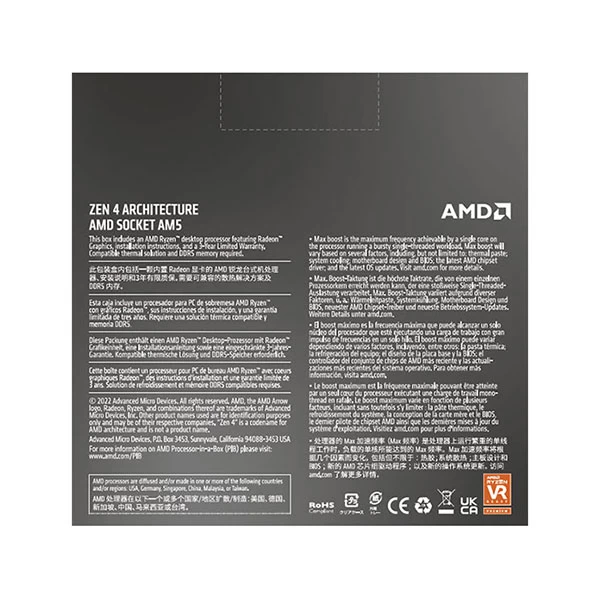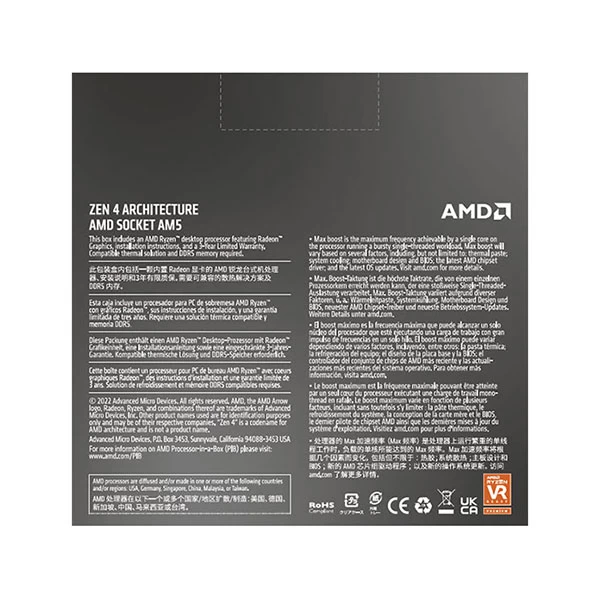 AMD Ryzen 7 7700X Processor With AMD Radeon Graphics
AMD Ryzen 7 7700X Processor With AMD Radeon Graphics
The AMD Ryzen R7 7700x Desktop Processor is the first desktop processor with stacked L3 cache.
It can deliver an unmatched 96MB of L3 cache paired with incredibly fast cores to create the world's fastest gaming desktop processor.
Ryzen has been the most demanded Chipset by Manufacturers across the world, mainly because of its ability to withstand high end performance and thread counts it has.
This AMD Ryzen 7 series performs no less than most of the Intel Core i7 Processor.
The AMD Ryzen R7 7700x Desktop Processor features the Highest Multiprocessing Performance You Can Get on Mainstream Desktop PC.
The AMD Ryzen R7 7700x Desktop Processor features the second-generation Ryzen chipsets and it is one of the Highest Multiprocessing Performance you can get on a Mainstream Desktop PC.
Being a 7 series Ryzen processor from AMD, it has a Premium AMD Processor Cooling Solutions. The coolers have been designed to deliver near-silent operation, bolstered with capable thermal hardware for exceptional performance.
From the low-profile Wraith Stealth, all the way to the top-of-the-line Wraith Prism, every Wraith cooler features near-silent acoustics paired with capable thermal performance.
Description
Additional information
Reviews (0)
Description
Specification:
Platform
Desktop
Market Segment
Enthusiast Desktop
Product Family
AMD Ryzen™ Processors
Product Line
AMD Ryzen™ 7 Desktop Processors
AMD PRO Technologies
No
Consumer Use
Yes
Regional Availability
Global
Former Codename
"Raphael AM5"
Architecture
"Zen 4"
of CPU Cores
8
Multithreading (SMT)
Yes
of Threads
16
Max. Boost Clock
Up to 5.4GHz
Base Clock
4.5GHz
L1 Cache
512KB
L2 Cache
8MB
L3 Cache
32MB
Default TDP
105W
Processor Technology for I/O Die
TSMC 6nm FinFET
CPU Compute Die (CCD) Size
71mm²
I/O Die (IOD) Size
122mm²
Package Die Count
2
Unlocked for Overclocking
Yes
AMD EXPO™ Memory Overclocking Technology
Yes
Precision Boost Overdrive
Yes
Curve Optimizer Voltage Offsets
Yes
AMD Ryzen™ Master Support
Yes
CPU Socket
AM5
Supporting Chipsets
CPU Boost Technology
Precision Boost 2
Instruction Set
x86-64
Supported Extensions
AES, AMD-V, AVX, AVX2, AVX512, FMA3, MMX(+), SHA, SSE, SSE2, SSE3, SSE4.1, SSE4.2, SSE4A, SSSE3, x86-64
Thermal Solution (PIB)
Not included
Max. Operating Temperature (Tjmax)
95°C
OS Support

Windows 11 – 64-Bit Edition
Windows 10 – 64-Bit Edition
RHEL x86 64-Bit
Ubuntu x86 64-Bit

Connectivity 
USB Type-C® Support
Yes
Native USB 3.2 Gen 2 (10Gbps) Ports
4
Native USB 3.2 Gen 1 (5Gbps) Ports
0
Native USB 2.0 (480Mbps) Ports
1
Native SATA Ports
0
Native PCIe® Lanes (Total/Usable)
28/24
Additional Usable PCIe Lanes from Motherboard
AMD X670E 12x Gen4

AMD X670 12x Gen4

AMD B650E 8x Gen4

AMD B650 8x Gen4

NVMe Support
Boot, RAID0, RAID1, RAID10
Memory Channels
2
Max. Memory
128GB
System Memory Subtype
UDIMM
Max Memory Speed
1x1R 5200 MT/s

1x2R 5200 MT/s

2x1R 3600 MT/s

2x2R 3600 MT/s

ECC Support
Yes (Requires mobo support)
Graphics Capabilities 
Integrated Graphics
Yes
Graphics Model
AMD Radeon™ Graphics
Graphics Core Count
2
Graphics Frequency
2200 MHz
GPU Base
400 MHz
USB Type-C® DisplayPort™ Alternate Mode
Yes
Product IDs
Product ID Boxed
100-100000591WOF
Product ID Tray
100-000000591
Key Features
Supported Technologies

AMD EXPO™ Technology
AMD Ryzen™ Technologies

Warranty
3 Years
Note
*** Features, Price, Specifications are subject to change without notice.
Series

Ryzen 7

CORES

8 Cores

THREADS

16 Threads

Socket

AM5

SPEED

4.5GHz

SPEED (TURBO)

5.4GHz

CACHE

40 MB

MAX MEMORY SUPPORT

128 GB

INTEGRATED GRAPHICS

Yes

INCLUDED CPU COOLER

No

UNLOCKED

Yes

TDP

105W

WARRANTY*

3 Years