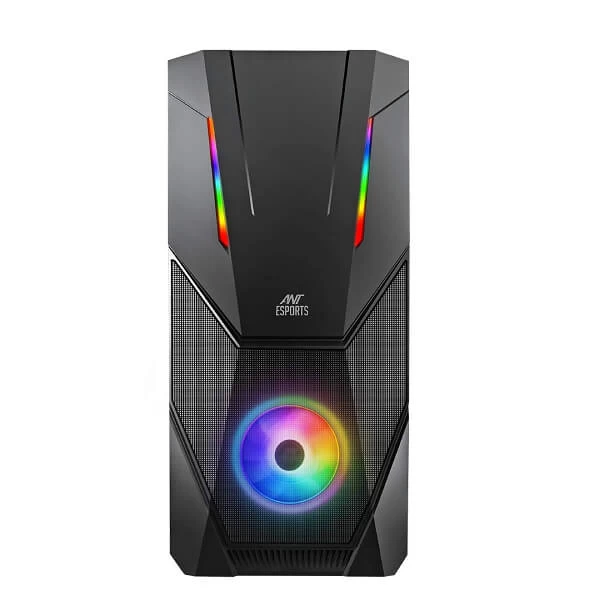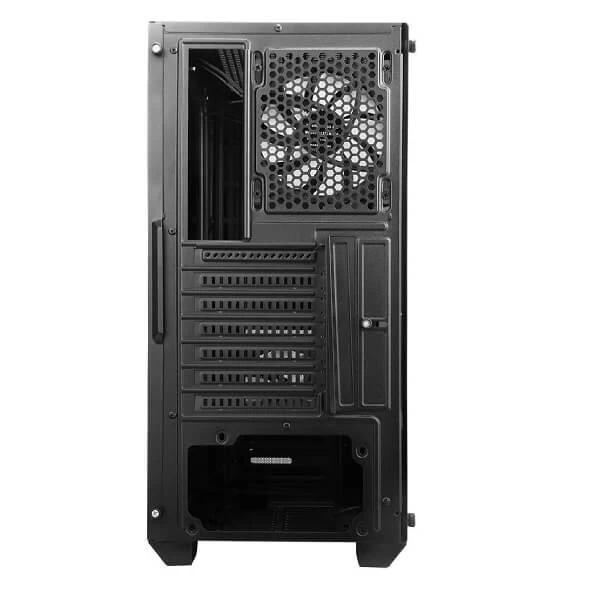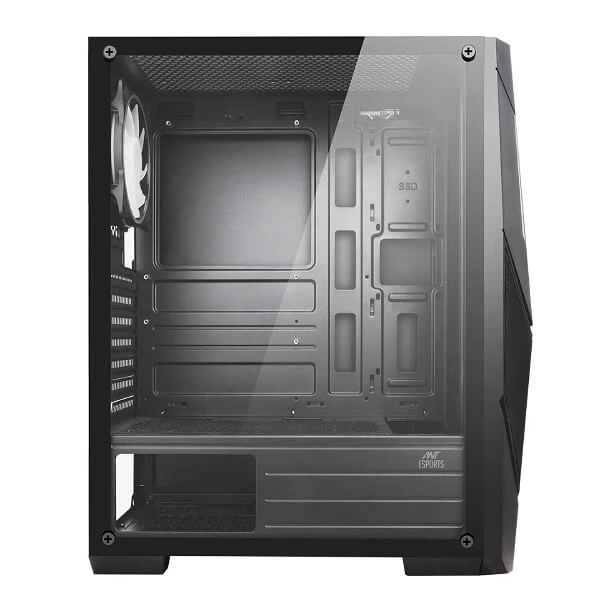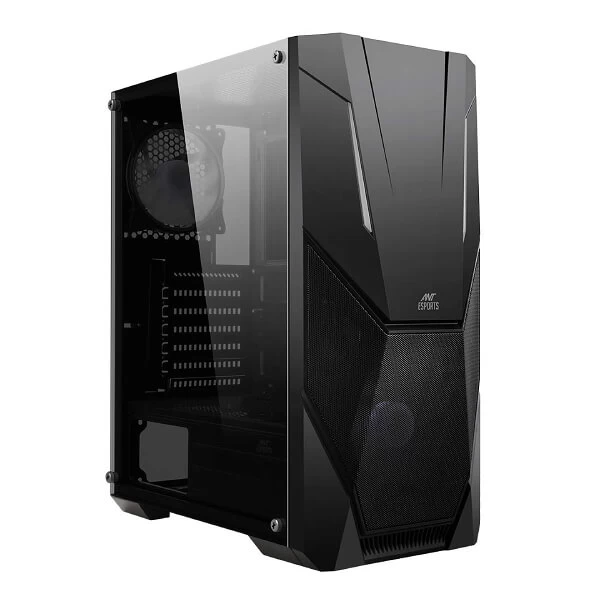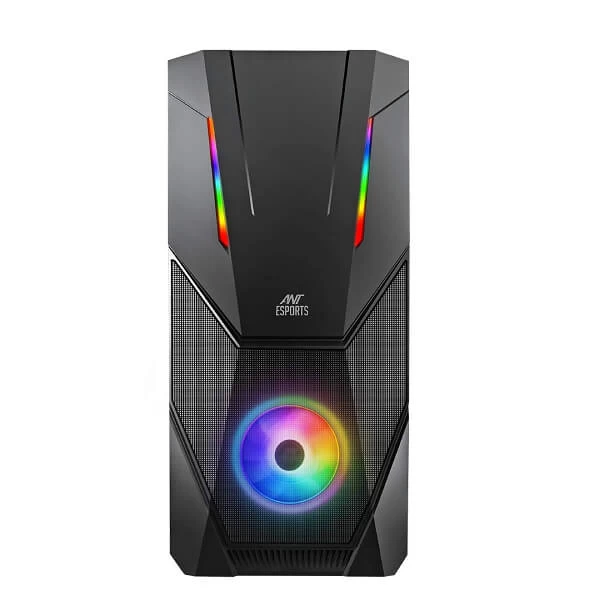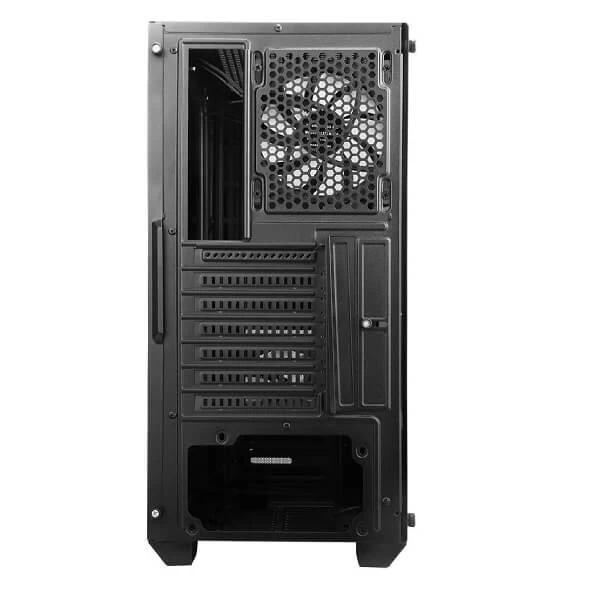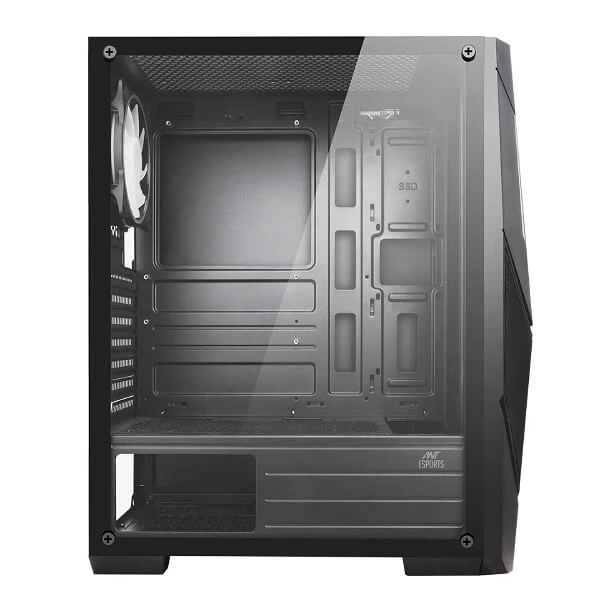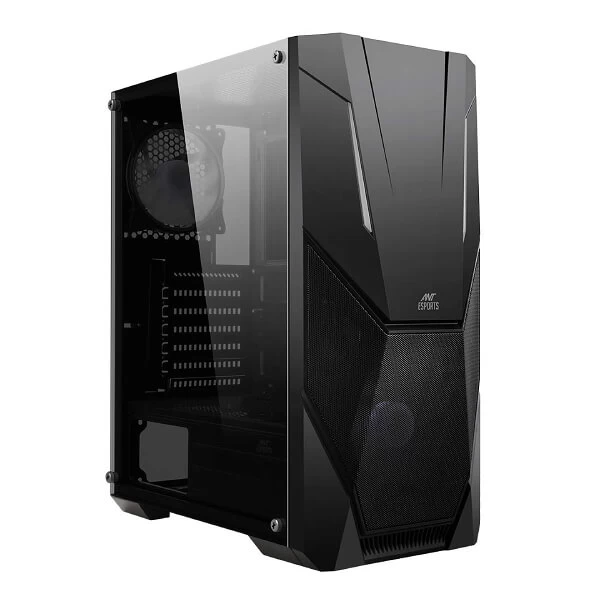 Ant Esports ICE-211TG ARGB Cabinet (Black)
Ant Esports ICE-211TG ARGB Cabinet (Black)
CABINET SIZE –

MID-TOWER

MAX GPU LENGTH –

315mm

MAX 3.5″ HDD –

2

MAX 2.5″ SSD –

3

EXPANSION SLOTS –

7

MAX RADIATOR SUPPORT –

280mm

MAX FAN SUPPORT –

8

FONT PANEL –

MESH

LEFT PANEL –

TRANSPARENT

CUSTOM COOLER COMPATIBLE –

NA

MOTHERBOARD SIZE –

ATX

USB SUPPORT –

TYPE-A
Description
With its next-gen space ship-inspired front fascia the Ant Esports ICE 211TG traces a balanced fine line between edgy looks and RGB bling! Equipped with a pseudo conical front that has a pair of ARGB strips on top and a mesh opening at the
bottom the case is perfect for those who want to take their builds to the next level.
Optimized for air and liquid cooling alike the case offers space for up to eight 120mm fans along with radiator support for 240mm or 280mm in the front or a single 240mm on top to give the user all the possibilities they need. The PSU shroud is perforated and not only aids in cooling via its two 120mm fan mounts but also helps in keeping the build clean and tidy thanks to wire management.
Storage wise the 211TG offers ample options and mounts creating a total of 2 HDD and 3 SSD build configurations. The build material is solid in form of a 0.5mm thick steel sheet and the front IO is well thought about offering three USB ports and other ports as standards while being vertically aligned to complete the package.
The ICE aka Innovative Cooling Equipment, lineup promises to bring unmatched cooling, uncompromising quality, and unconventional RGB lighting to the reach of every gamer. Designed and created with utmost precision keeping in mind the need of every system builder alike the ICE series guarantees not only to elevate your system performance but also to keep you ahead in the heat of battle with its efficient cooling and sturdy construction.

Key Features and Specifications
Futuristic Front Design: Impressive space ship-inspired conical front panel design to make it stand out from the crowd.
Ideal for liquid cooling: With support for a 240mm/280mm radiator in the front and a 240mm on top the case is built for liquid cooling.
Well equipped IO Panel: 1 x USB 3.0, 2 x USB 2.0, 1 x Audio, 1 x Mic and Reset button laid out in a vertical fashion for an edgy look.
Dual Chamber Design: Separate PSU shroud to assist in cooling as well as in a much cleaner design.
ARGB Fans pre-installed: Comes with two 120mm ARGB fans out of the box.
Specifications
Chassis Size
330 x 210 x 430 mm
Motherboard Type
ATX, Micro-ATX, ITX Motherboard
Drive Bays
3.5 Inch x 2
2.5 Inch x 3
Fan Support
Front 140 mm x 2 / 120 mm x 3
Top 120 mm x 2
Bottom 120 mm x 2
Rear 120 mm x 1
Preinstalled Fans
Front – 1 x 120 mm ARGB Fan
Rear – 1 x 120 mm ARGB Fan
Liquid Cooling Support
Front 120 / 240 / 360 mm x 1
Top 120 / 240 mm x1
Rear 120 mm x 1
Expansion Slots
7
I/O Panel
1 x USB 3.0, 2 x USB 2.0, 1 x Audio In, 1 x Mic
VGA Card Length
315 mm
CPU Cooler Height
154 mm
Package Size
496 x 270 x 437 mm
Warranty
1 Year
Note
*** Features, Price, Specifications are subject to change without notice.
CABINET SIZE –

MID-TOWER

MAX GPU LENGTH –

315mm

MAX 3.5″ HDD –

2

MAX 2.5″ SSD –

3

EXPANSION SLOTS –

7

MAX RADIATOR SUPPORT –

280mm

MAX FAN SUPPORT –

8

FONT PANEL –

MESH

LEFT PANEL –

TRANSPARENT

CUSTOM COOLER COMPATIBLE –

NA

MOTHERBOARD SIZE –

ATX

USB SUPPORT –

TYPE-A