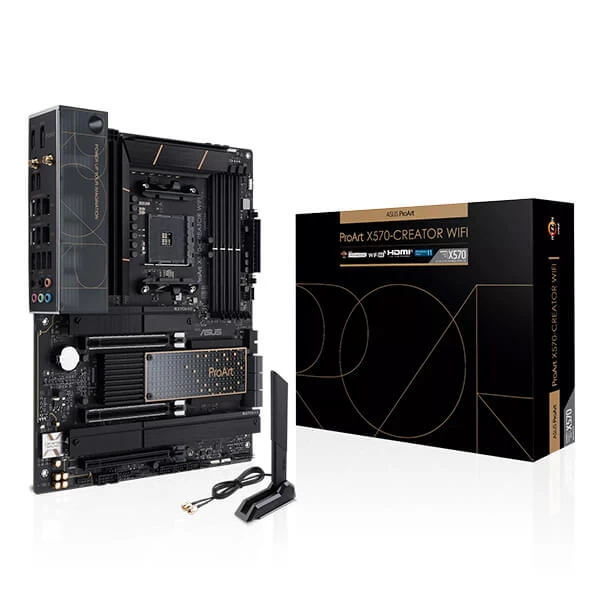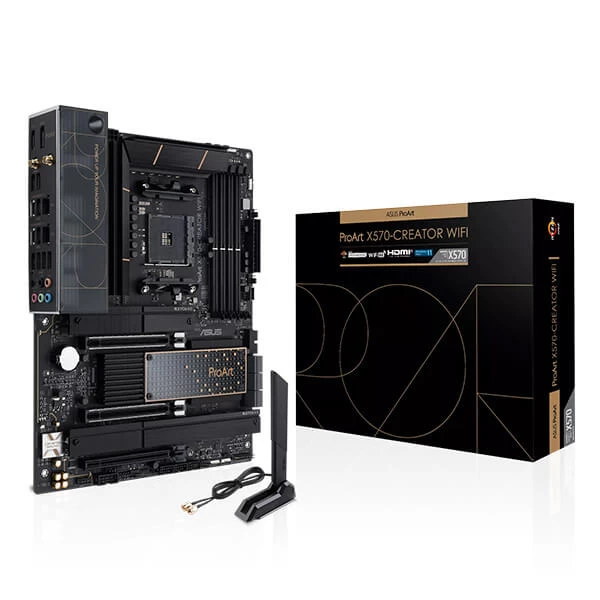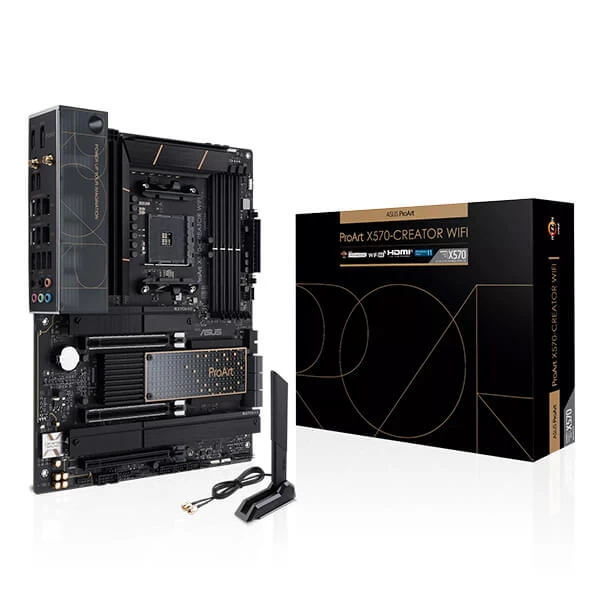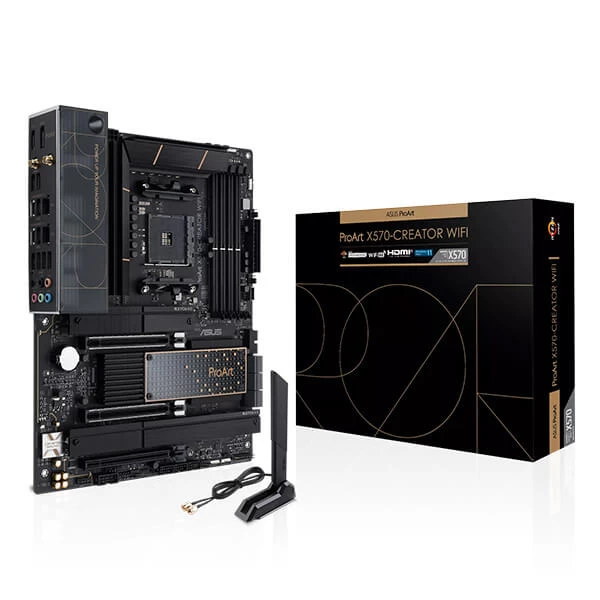 Asus ProArt X570-Creator WIFI Motherboard
Asus ProArt X570-Creator WIFI Motherboard
AMD X570 Ryzen AM4 ATX content creation motherboard with PCIe® 4.0, passive PCH cooling design, dual Thunderbolt™ 4 Type-C ports, 10 Gb & 2.5 Gb onboard Ethernet, WiFi 6E, three M.2 with heatsinks, USB 3.2 Gen 2 and advanced security management
AM4 socket: Ready for AMD Ryzen™ 5000 Series / 5000 G-Series / 4000 G-Series / 3000 Series / 3000 G-Series / 2000 Series / 2000 G-Series CPUs
Robust performance: 14+2 power stages, ProCool II power connector, high-quality alloy chokes and durable capacitors
Comprehensive thermal design: Massive VRM heatsink, passive chipset heatsink and M.2 aluminum heatsinks
Extensive connectivity: Dual Thunderbolt™ 4 Type-C ports, 10 Gb & 2.5 Gb onboard Ethernet, WiFi 6E, three PCIe® 4.0 M.2 slots and USB 3.2 Gen 2 ports
Advanced security: USB port management, software blacklisting and Regedit on/off controls via ASUS Control Center Express
ProArt gives you more: Two-Way AI Noise Cancelation for clear online communication, and ProArt Creator Hub with CreationFirst for one-stop system control
Trusted stability: Tested for 24/7 operation, validated for extensive compatibility, and equipped with SafeSlot for enhanced durability
Description
AMD X570 Ryzen AM4 ATX content creation motherboard with PCIe® 4.0, passive PCH cooling design, dual Thunderbolt™ 4 Type-C ports, 10 Gb & 2.5 Gb onboard Ethernet, WiFi 6E, three M.2 with heatsinks, USB 3.2 Gen 2 and advanced security management
AM4 socket: Ready for AMD Ryzen™ 5000 Series / 5000 G-Series / 4000 G-Series / 3000 Series / 3000 G-Series / 2000 Series / 2000 G-Series CPUs
Robust performance: 14+2 power stages, ProCool II power connector, high-quality alloy chokes and durable capacitors
Comprehensive thermal design: Massive VRM heatsink, passive chipset heatsink and M.2 aluminum heatsinks
Extensive connectivity: Dual Thunderbolt™ 4 Type-C ports, 10 Gb & 2.5 Gb onboard Ethernet, WiFi 6E, three PCIe® 4.0 M.2 slots and USB 3.2 Gen 2 ports
Advanced security: USB port management, software blacklisting and Regedit on/off controls via ASUS Control Center Express
ProArt gives you more: Two-Way AI Noise Cancelation for clear online communication, and ProArt Creator Hub with CreationFirst for one-stop system control
Trusted stability: Tested for 24/7 operation, validated for extensive compatibility, and equipped with SafeSlot for enhanced durability
ProArt X570-Creator WiFi perfects the art of performance, empowering creativity and maximizing the computing power of the latest AMD Ryzen™ processors with powerful hardware and software, efficient cooling and lightning-fast connectivity, including Thunderbolt™ 4, 10 Gb and 2.5 Gb onboard Ethernet, and WiFi 6E.
Two Onboard Thunderbolt™ 4 USB-C
Each Thunderbolt 4 port delivers up to 40 Gbps of bidirectional bandwidth for the latest high-speed devices and drives. Thunderbolt 4 also supports up to two external 4K displays and extends PCIe® bandwidth to up to 32 Gbps.
1. WiFi 6E (Gig+)
Onboard WiFi 6E technology takes advantage of the newly available radio spectrum in the 6 GHz band, providing up to three times the bandwidth of the 5 GHz band and up to seven 160 MHz bands to deliver ultrafast networking speeds along with improved capacity and better performance in dense wireless environments.
2. Marvell® AQtion 10 Gbps Ethernet
Designed to meet the demanding requirements of power users and content creators, 10 Gbps onboard Ethernet provides a new level of home networking. With up to 10 times the bandwidth of standard gigabit Ethernet, streaming uncompressed 4K UHD videos or performing system backups or transferring large files is now faster than ever before.
3. Intel® 2.5 Gb Ethernet
The Intel 2.5 Gb Ethernet (I225-V) port provides up to a 2.5 times improvement over standard 1 Gb Ethernet connections for faster data transfers and smooth high-res video streaming.
Three PCIe 4.0 M.2 slot support up to 22110 and provide NVMe® SSD RAID support for an incredible performance boost. Create a RAID configuration with up to two PCIe 4.0 storage devices to enjoy the fastest data transfer speeds on the AMD Ryzen 5000 and 3000 Series desktop processors.
The innovative Q-Latch makes it easy to install or remove an M.2 SSD without the need for specific tools. The design employs a simple locking mechanism to secure the drive and neatly eliminate traditional screws.
ProArt X570-Creator WiFi boasts an optimized power design layout and the memory performance needed to handle the prodigious power of the latest AMD Ryzen processors, enabling the most demanding multithreaded tasks such as 3D or video rendering and software compiling.
1. Teamed Power Stages
14+2 power stages combine high-side and low-side MOSFETs and drivers into a single package, delivering the power and efficiency that the latest AMD Ryzen processors demand.
2. Digi+ Power Control
The ASUS Digi+ voltage-regulator module (VRM) is one of the finest in the industry and ensures ultra-smooth power delivery to the CPU.
3. ProCool II Power Connector
The ProCool socket is built to exacting specifications to ensure flush contact with the PSU power lines, enabling lower impedance and better heat dissipation.
4. Choke & Capacitor
Superior alloy chokes and durable capacitors are engineered to resist extreme temperatures, providing a higher level of performance than the industry standard.
Comprehensive Cooling Design
Maintaining system stability under heavy loads is of paramount importance, so ProArt X570-Creator WiFi employs passive chipset cooling with large VRM and chipset heatsinks that strike the right balance between surface area and mass. Integrated premium components and multiple fan headers are also vital design elements that provide the best foundation for content creation systems.
1. VRM Heatsinks
Two VRM heatsinks are placed above the MOSFETs and chokes to further increase surface area for heat dissipation.
2. M.2 Heatsinks
Two dedicated heatsinks keep the three M.2 SSDs at the optimal operating temperature for consistent performance and reliability.
3. Passive Chipset Heatsink
A dedicated chipset heatsink draws heat away to help ensure that temperatures stay within an optimal range.
Industry-Leading Security
Advanced security management functions from ASUS Control Center Express protects the system and confidential data.
Enable or disable the USB port or set it to Read Only to prevent data leaks.
For added security, a software blacklist is available to help prevent the use of high-risk applications.
Remotely disable the Registry Editor on client devices to prevent unauthorized changes to system configurations.
A user-friendly interface helps enhance workflows via a central system that allows monitoring and control of all connected ProArt Series products, including motherboards and displays.
1. Fan Mode
Select the preferred fan setting to quickly configure the system's cooling performance.
2. Task Group
Applications that are frequently used together can be arranged into groups and launched with a single click.
CPU

AMD Ryzen™ 5000 Series/ 5000 G-Series/ 4000 G-Series/ 3000 Series/ 3000 G-Series/ 2000 Series/ 2000 G-Series Desktop Processors

Chipset

X570

Storage

Supports 3 x M.2 slots and 6 x SATA 6Gb/s ports

Ethernet

1 x Intel® 2.5Gb Ethernet
1 x Marvell® 10Gb Ethernet

USB

Rear USB:Total 10 ports

Operating System

Windows® 11 64-bit, Windows® 10 64-bit

Form Factor

ATX, 30.5cm*24.5cm
Features:
AMD X570 Ryzen AM4 ATX content creation motherboard with PCIe® 4.0, passive PCH cooling design, dual Thunderbolt™ 4 Type-C ports, 10 Gb & 2.5 Gb onboard Ethernet, WiFi 6E, three M.2 with heatsinks, USB 3.2 Gen 2 and advanced security management
AM4 socket: Ready for AMD Ryzen™ 5000 Series / 5000 G-Series / 4000 G-Series / 3000 Series / 3000 G-Series / 2000 Series / 2000 G-Series CPUs
Robust performance: 14+2 power stages, ProCool II power connector, high-quality alloy chokes and durable capacitors
Comprehensive thermal design: Massive VRM heatsink, passive chipset heatsink and M.2 aluminum heatsinks
Extensive connectivity: Dual Thunderbolt™ 4 Type-C ports, 10 Gb & 2.5 Gb onboard Ethernet, WiFi 6E, three PCIe® 4.0 M.2 slots and USB 3.2 Gen 2 ports
Advanced security: USB port management, software blacklisting and Regedit on/off controls via ASUS Control Center Express
ProArt gives you more: Two-Way AI Noise Cancelation for clear online communication, and ProArt Creator Hub with CreationFirst for one-stop system control
Trusted stability: Tested for 24/7 operation, validated for extensive compatibility, and equipped with SafeSlot for enhanced durability
Specification:
CPU
AMD Ryzen™ 5000 Series/ 5000 G-Series/ 4000 G-Series/ 3000 Series/ 3000 G-Series/ 2000 Series/ 2000 G-Series Desktop Processors
AMD Socket AM4 for AMD Ryzen™ 5000 Series/ 5000 G-Series/ 4000 G-Series/ 3000 Series/ 3000 G-Series/ 2000 Series/ 2000 G-Series Desktop Processors*
Chipset
X570
Memory
AMD Ryzen™ 5000 Series/ 3000 Series Desktop Processors

4 x DIMM, Max. 128GB, DDR4 4800(OC) / 4600(OC) / 4400(OC) / 4266(OC) / 4133(OC) / 4000(OC) / 3866(OC) / 3733(OC) / 3600(OC) / 3466(OC) / 3400(OC) / 3200 / 3000 / 2933 / 2800 / 2666 / 2400 / 2133 MHz, un-buffered memory*

AMD Ryzen™ 5000 G-Series and 4000 G-Series Processors

4 x DIMM, Max. 128GB, DDR4 DDR4 5100(OC) / 5000(OC) / 4866(OC) / 4800(OC) / 4600(OC) / 4400(OC) / 4266(OC) / 4133(OC) / 4000(OC) / 3866(OC) / 3733(OC) / 3600(OC) / 3466(OC) / 3400(OC) / 3200 / 3000 / 2933 / 2800 / 2666 / 2400 / 2133 MHz, un-buffered memory*

AMD Ryzen™ 2000 Series Desktop Processors

4 x DIMM, max. 128GB, DDR4 3600(OC) / 3466(OC) / 3400(OC) / 3200(OC) / 3000(OC) / 2933 / 2800 / 2666 / 2400 / 2133 MHz, un-buffered memory*

AMD Ryzen™ 3000 G-Series and 2000-G Series Desktop Processors

4 x DIMM, max. 128GB, DDR4 3200(OC) / 3000(OC) / 2933 / 2800 / 2666 / 2400 / 2133 MHz, un-buffered memory*

OptiMem II

Dual Channel Memory Architecture

ECC Memory (ECC mode) support varies by CPU.

* Refer to www.asus.com for the Memory QVL (Qualified Vendors Lists).

Graphics
1 x HDMI® 2.1(4K@60Hz)

2 x Intel® Thunderbolt™ 4 ports (USB Type-C®) support DisplayPort 1.2/1.4 and Thunderbolt™ video outputs *

* VGA resolution support depends on processors' or graphic cards' resolution. For more details about the video input and output settings please refer to the user manual.

Expansion Slots
AMD Ryzen™ 5000 Series and 3000 Series Desktop Processors

2 x PCIe 4.0 x16 (x16 or dual x8**)*

AMD Ryzen™ 5000 G-Serie, 4000 G-Series and 2000 Series Processors

2 x PCIe 3.0 x16 (x16 or dual x8**)*

AMD Ryzen™ 2000 G-Series and 3000 G-Series Processors

1 x PCIe 3.0 x16 (x8 mode)*

AMD X570 Chipset

1 x PCIe 4.0 x16 slot (supports x4 mode)

* Support PCIe bandwidth bifurcation for RAID on CPU function.

** PCIEX16_2 slot share bandwidth with M.2_2, which runs at PCIe 4.0/3.0 x8 by default.

When M.2_2 is enabled, PCIEX16_2 will run PCIe 4.0/3.0 x4 mode, adjust this item in BIOS settings.

Storage
Supports 3 x M.2 slots and 6 x SATA 6Gb/s ports

Total supports 3 x M.2 slots and 6 x SATA 6Gb/s ports

AMD Ryzen™ 5000 Series and 3000 Series Desktop Processors

M.2_1 slot (Key M), type 2242/2260/2280/22110 (supports PCIe 4.0 x4 & SATA modes)

M.2_2 slot (Key M), type 2242/2260/2280 (supports PCIe 4.0 x4)*

AMD Ryzen™ 5000 G-Serie, 4000 G-Series and 2000 Series Processors

M.2_1 slot (Key M), type 2242/2260/2280/22110 (supports PCIe 3.0 x4 & SATA modes)

M.2_2 slot (Key M), type 2242/2260/2280 (supports PCIe 3.0 x4)*

AMD Ryzen™ 2000 G-Series and 3000 G-Series Processors

M.2_1 slot (Key M), type 2242/2260/2280/22110 (supports PCIe 3.0 x4 & SATA modes)

AMD X570 Chipset

M.2_3 slot (Key M), type 2242/2260/2280/22110 (supports PCIe 4.0 x4 & SATA modes)

Supports RAID 0, 1, 10
6 x SATA 6Gb/s ports

Ethernet

1 x Intel® 2.5Gb Ethernet
1 x Marvell® 10Gb Ethernet
1 x Marvell® AQtion AQC113CS 10Gb Ethernet
1 x Intel® I225-V 2.5Gb Ethernet
ASUS LANGuard

Wireless & Bluetooth

2×2 Dual Band Wi-Fi 6E (802.11a/b/g/n/ac/ax) + BT5.2
Wi-Fi 6E
2×2 Wi-Fi 6E (802.11 a/b/g/n/ac/ax)
Supports 2.4/5/6GHz frequency band*
Bluetooth v5.2
* WiFi 6E 6GHz regulatory may vary between countries, and function will be ready in Windows 11 or later.

USB
Rear USB:Total 10 ports

Rear USB (Total 10 ports)

2 x Thunderbolt™ 4 port(s) (2 x USB Type-C®) with up to 5V/3A, 15W charging support

4 x USB 3.2 Gen 2 port(s) (4 x Type-A)

4 x USB 3.2 Gen 1 port(s) (4 x Type-A)

Front USB:Total 9 ports

Front USB (Total 9 ports)

1 x USB 3.2 Gen 2 connector (support(s) USB Type-C®)

1 x USB 3.2 Gen 1 header(s) support(s) additional 2 USB 3.2 Gen 1 ports

3 x USB 2.0 header(s) support(s) additional 6 USB 2.0 ports

Audio
Realtek S1220A 7.1 Surround Sound High Definition Audio CODEC*

– Impedance sense for front and rear headphone outputs

– Internal audio Amplifier to enhance the highest quality sound for headphone and speakers

– Supports: Jack-detection, Multi-streaming, Front Panel Jack-retasking

– High quality 120 dB SNR stereo playback output and 113 dB SNR recording input (Line-in)

– Supports up to 32-Bit/192 kHz playback*

Audio Features

– Power pre-regulator reduces power input noise to ensure consistent performance

– Premium Japanese audio capacitors

– Dedicated audio PCB layers

– Audio cover

– Unique de-pop circuit

* Due to limitations in HDA bandwidth, 32-Bit/192 kHz is not supported for 7.1 Surround Sound audio.

Back Panel I/O Ports
2 x Thunderbolt™ 4 USB Type-C® port(s)

4 x USB 3.2 Gen 2 port(s) (4 x Type-A)

4 x USB 3.2 Gen 1 port(s) (4 x Type-A)

1 x DisplayPort (Input only)

1 x HDMI® port

1 x Intel® I225-V 2.5Gb Ethernet port

1 x Marvell® AQtion AQC113CS 10Gb Ethernet port

1 x ASUS Wi-Fi Module

5 x Audio jacks

1 x BIOS FlashBack™ button

Internal I/O Connectors
Fan and Cooling related

1 x 4-pin CPU Fan header(s)

1 x 4-pin CPU OPT Fan header(s)

1 x 4-pin AIO Pump header(s)

1 x W_PUMP+ header(s)

4 x 4-pin Chassis Fan header(s)

Power related

1 x 24-pin Main Power connector

1 x 8-pin +12V Power connector

1 x 4-pin +12V Power connector

Storage related

3 x M.2 slots (Key M)

6 x SATA 6Gb/s ports

USB

1 x USB 3.2 Gen 2 connector (support(s) USB Type-C®)

1 x USB 3.2 Gen 1 header(s) support(s) additional 2 USB 3.2 Gen 1 ports

3 x USB 2.0 header(s) support(s) additional 6 USB 2.0 ports

Miscellaneous

3 x AURA Addressable Gen 2 header(s)

1 x AURA RGB header(s)

1 x Clear CMOS header

1 x COM Port header

1 x Front Panel Audio header (AAFP)

1 x SPI TPM header (14-1pin)

1 x 20-3 pin System Panel header with Chassis intrude function
1 x Thermal Sensor header

Special Features
ASUS 5X PROTECTION III

– DIGI+ VRM (- Digital power design with Dr. MOS)

– Enhanced DRAM Overcurrent Protection

– ESD Guards

– LANGuard

– Overvoltage Protection

– SafeSlot Core

– Stainless-Steel Back I/O

ASUS Q-Design

– Q-DIMM

– Q-LED (CPU [red], DRAM [yellow], VGA [white], Boot Device [yellow green])

– M.2 Q-Latch

– Q-Slot

ASUS Thermal Solution

– M.2 heatsink

– VRM heatsink design

ASUS EZ DIY

– BIOS FlashBack™ button

– BIOS FlashBack™ LED

– ProCool II

– Pre-mounted I/O shield

– SafeSlot

AURA Sync

– AURA RGB header(s)

– Addressable Gen 2 RGB header(s)

Bespoke Motherboard Design & Business Focused Features

– 24/7 Reliability
– Overcurrent Protection

Software Features
ASUS Exclusive Software

Armoury Crate

– AURA Creator

– AURA Sync

– Two-Way AI Noise Cancelation

AI Suite 3

– 5-Way Optimization by Dual Intelligent Processors 5

TPU

EPU

Digi+ VRM

Fan Xpert 4

Turbo app

– EZ update

ASUS CPU-Z

IT Management software supported

– ASUS Control Center Express(ACCE)

ProArt Creator Hub

DAEMON Tools

Norton Anti-virus software (Free Trial version)

WinRAR

UEFI BIOS

ASUS EZ DIY

– ASUS CrashFree BIOS 3

– ASUS EZ Flash 3

– ASUS UEFI BIOS EZ Mode

FlexKey

BIOS
256 Mb Flash ROM, UEFI AMI BIOS
Manageability
WOL by PME, PXE
Accessories
Cables

4 x SATA 6Gb/s cables

1 x DP to DP cable for Thunderbolt™ 4

Miscellaneous

1 x ASUS Wi-Fi moving antennas

2 x M.2 Rubber Package(s)

1 x M.2 SSD screw package(s)

1 x Q-connector

Installation Media

1 x Support DVD

Documentation

1 x ACC Express Activation Key Card

1 x User manual

Operating System

Windows® 11 64-bit, Windows® 10 64-bit
Windows® 10 64-bit, Windows® 11 Ready

Form Factor
ATX
30.5cm x 23.4cm
Warranty
3 Years